The state requires all information entered be specific to the user taking the course.  If you are looking to purchase for multiple employees,  visit our BULK ONLINE ORDER page.
If you are looking to purchase for someone else, remember, a PayPal account is not needed to purchase the course. If this person has a Debit or Credit card, and email address, they can purchase the course that way. If you still need to purchase the course for another person, the best way to do this is via a debit or credit card
Step 1: Enter select Pay by Debit/Credit under the Pay with PayPal section. "MAKE SURE YOU ARE NOT LOGGED INTO PAYPAL"
Step 2: Enter your information in the billing section
Step 3: Uncheck the box  where it states "Same as Billing Address"
Step 4: Enter the students information that is taking the course in the Shipping Information. (See Image Below)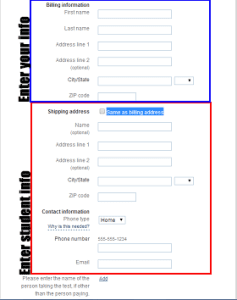 Enter an original email address for the student. If they don't have one you can create a free email address using Google. Our system handles memberships based on the registered members email address, so the email address must be original. If you already purchased the course, and attempt to purchase the course for someone else later, it will change your course level and not create an account for new person.
If you have any further questions about this, please CONTACT US.